by Pádraic Gilligan, Managing Partner, SoolNua & Chief Marketing Officer, SITE
Incentive Travel Industry Index 2018
Last week Society for Incentive Travel Excellence (SITE), Incentive Research Foundation (IRF) and Financial & Insurance Conference Professionals (FICP) released their eponymous joint survey for the Incentive Travel Industry. Another welcome example of associations working together for the greater good of the industry, the resulting study will provide important insights into the current and future direction of incentives, allowing professionals across the full spectrum of the industry to plan and strategise based on evidence based research.
Please take the survey by clicking here.
The survey is far reaching, asking questions that apply to corporate incentive planners, third party organisations, destination marketing organisations, destination management companies and destination-based hospitality partners. You can take the survey in your choice of English, Spanish and Chinese and you even have 2 choices for the English version – depending on whether you spell programme with or without me at the end! The survey should take no more than 20 minutes to complete ( – the "10 minutes" mentioned on the intro to the survey is probably an under-estimation!)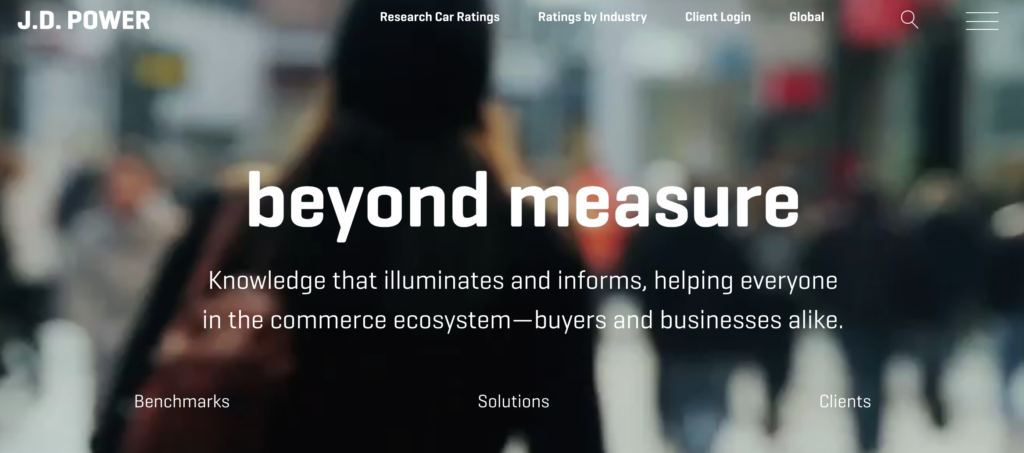 The geniuses at JD Power have set up the survey to facilitate all manner of slicing and dicing. So when the survey asks "In what country are you based for work" it's not an idle question but one that allows for national and regional analysis of results. The survey also allows for nuances around the "buyer" / "supplier" categorisation by capturing DMCs (who in many ways straddle the spectrum) as a separate line item.
The Buyer category is then sub-divided into corporate users of incentive services and agencies. This is the "two roads diverged in a yellow wood" as once you make your selection here, your "journey" through the survey follows a different pathway ensuring that the questions posed are relevant to the work you do.
The "B" words – Budget & Business Impact
The first set of questions relate to "budget", a important bell weather for our industry. Rising budgets tell many stories – they may indicate a sellers market with core costs such as air transportation or hotel rising or, indeed, a bigger financial commitment on the part of the corporate sponsor to the incentive programme.  A series of very specific questions then seek to determine overall per person spend per programme (in 2017 this figure was as high as $5500 per person) and what percentage of of that figure belongs to the air portion.
The next section focuses on Business Impact, setting out to evaluate what micro and macro events – geo-political or industry specific – are impacting on the business of incentive travel. Last year's SITE Index, interestingly, revealed little impact on destination selection of the terrorist attacks in England and France despite their occurrence in that very year. Another question then asks about government regulations – relating to the environment, to the pharma industry and to the financial industry.
Still under Business Impact, the survey then seeks to rank in order of importance the objectives pursued by owners of incentive travel programmes (in 2017 this was sales performance).  It also evaluates the deeper, more long term, ripple effect of incentives on the business that makes the investment, on the quality of life of the qualifier,  their personal and professional development and in relation to the economic contribution to the destination.

Trends in Incentive Travel & Logistics
Incentive travel programmes are ultimately experiential events, involving real people in real time, in real place. But that doesn't make them oblivious to the brave new world of technology. The survey includes tech phenomenon like AR and VR amongst a list "hot trends" that also include the growing incidence of bringing corporate security on incentive trips and the all – pervasiveness of wellness.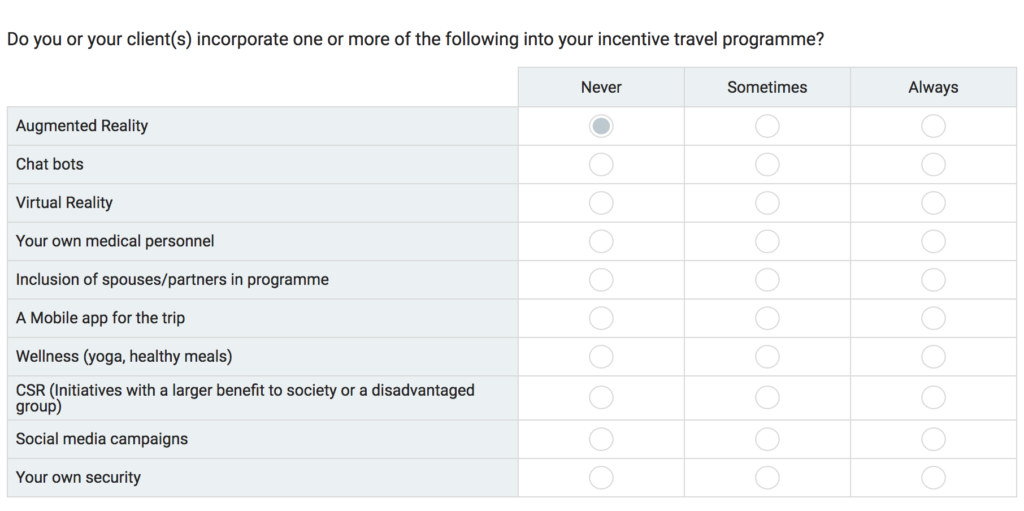 Question around logistics focus on which regions are being used for incentives – last year's results demonstrated unequivocally that the vast majority of incentive travel programmes remain patronise destinations within the same region as the source market that generated them. Other "logistics" questions ask about typical programme duration, whether a meeting component is included in the incentive travel programme.
Destination Selection
Finally there are questions concerning destination selection, the results of which provide immense value to Destination Marketing Organisations (DMOs), National Tourist Boards (NTOs) and, of course, Destination Management Consultants (DMCs).
Research studies conducted over the past number of years constantly underline how destinations for meetings and conferences are chosen for ease of access, suitability of infrastructure and value for money while destinations for incentives are selected purely on appeal. While this is hardly surprising, the extent by which appeal trumps all other criteria surely underlines the primary need for DMOs and DMCs to communicate cogently, effectively and delightfully the destination value proposition?
In the same section there are additional questions around what might cause one destination to be perceived as more appealing than another. Options to consider include articles in mainstream media, in industry media, on social media or word of mouth recommendations.
Finally there are questions about education and how a decision maker might get informed about the relative merits of a destination. Options here include trade show marketing, road shows, print and online collateral, fam trips etc.
In Conclusion
The industry at large owes a deep debt of gratitude to SITE, IRF and FICP for funding this wide ranging survey of the incentive travel industry. In return the least we can do is find 10 – 20 minutes, put the cell phone on silent and pay attention to the survey, providing real and accurate responses to the questions asked.
You can click direct to the survey from here.
E Mail me on [email protected] for a PDF version of the document below that includes live links to the survey as well as suggestions on how sharing the survey on social media.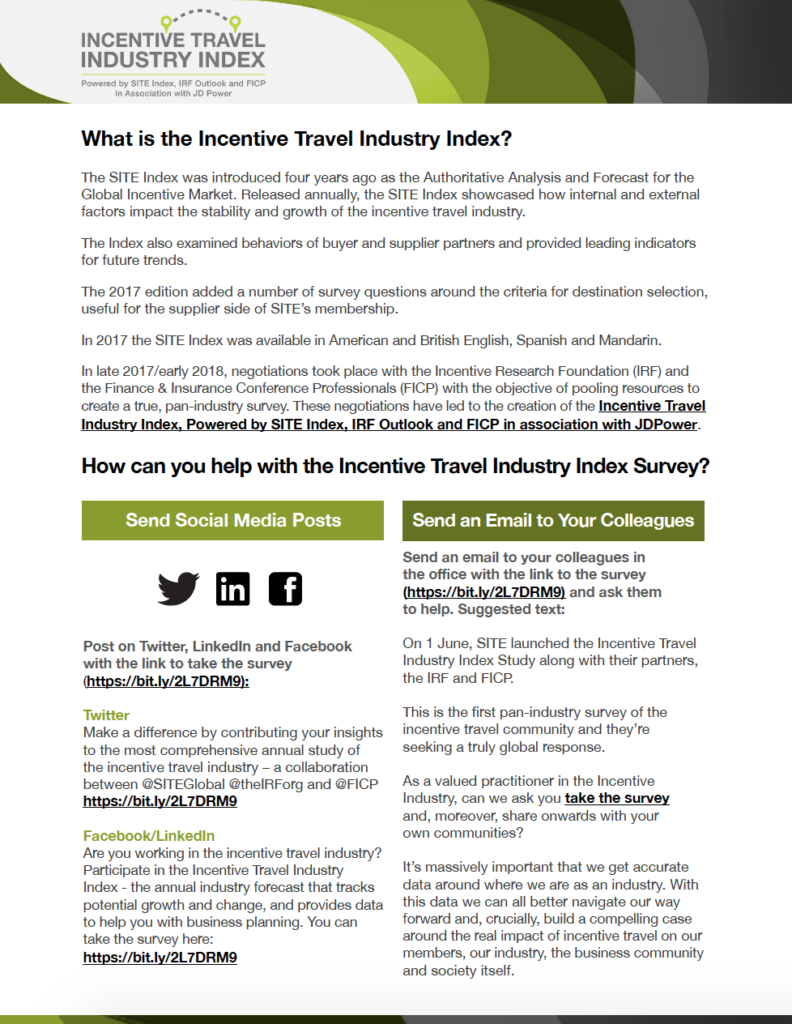 Pádraic Gilligan, Patrick Delaney and Aoife McCrum run SoolNua, a specialised agency working with destinations, hotels, venues and agencies on strategy, marketing and training.